Add Character to Your Home with a Stone Fireplace
Our expert team of craftsmen and designers can add warmth and depth to your living room, den, or family room with a handcrafted natural stacked stone or a stone veneer fireplace. At Stratton Exteriors, we have years of experience creating beautiful, custom fireplaces from natural stone or realistic manufactured stone products to add value and luxury to your home.
Our certified fireplace installers can transform your existing fireplace into a stunning, one-of-a-kind feature. Together, we'll select the best materials for your home and design a fireplace that complements your existing architecture and furnishings.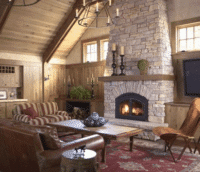 Invest in Your Home and Your Family
Add value to your home and look forward to warm and cozy nights gathered around a safe and beautifully crafted fireplace by Stratton Exteriors. Our natural stone fireplaces add a durable, rich, and organic look to the interior of your house. If you're looking for a more affordable alternative to natural stone, you might want to consider manufactured stone. Modern manufactured stone is a lightweight and affordable solution for many Nashville-area homeowners.
Don't have a fireplace but love the look of stone? Don't fret! We also design and build outdoor kitchens and exteriors using stone and manufactured stone facades.